Pink Sugar by Aquolina! It's amazingly sweet and girlie, reminds me of cotton candy, carousels and funnel cake! 
One squirt and you emanate deliciousness all day long. I love it for Spring & Summer.  
Notes:
Bergamot, Sicilian Orange, Raspberry, Fig Leaves, Lily of the Valley, Licorice, Strawberry, Red Fruit, Cotton Candy, Vanilla, Caramel, Musk, Wood, Powder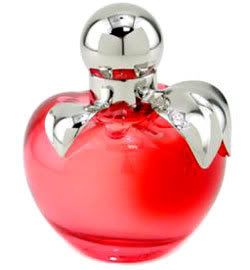 Nina Ricci. Delightful bouquet for the senses, I love this, it's so clean and fresh yet a little warm too. I feel the need to
reapply more frequently with this one, though.
Notes: Calabrese Lemon, Cipirinha Lime, Red Toffee Apple, Vanilla Infusion, Moonflower, Peony Petals, Apple Tree Wood, Cotton Musk
Agent Provocateur. This may look light and girlie, but it's actually very dark and seductive.  
Kind of an acquired taste. It's perfect for cold Winters, but may be a little
over-powering for hot Summer days or night. Again one squirt and you are good to go.
Notes:
Indian Saffron Oil, Russian Coriander, Moroccan Rose, Egyptian Jasmine, French Magnolia, Ylang-Ylang, White Gardenia Flowers from the Comoroes, Amber, Virginian Cedarwood, Haitian Vetiver, Musk
Burberry Brit Sheer. This bottle says it all. Such a lovely, soft and feminine 
fragrance. Perfect for any occasion day or night, Summer or Winter. Plus
anything has pineapple notes in it gets my vote.
Notes:
Yuzu, Pineapple Leaves, Litchi, Mandarin, Grapes, Pink Peony, Peach Blossom, Nashi, White Musk, Blond Woods